If this crazy/scrappy 'quilt-as-you-go' idea is firing up your creative juices and you want even more information, pictures, ways to use your pretty scraps without needing a quilt guild or expensive books to get you started, check out this site by clicking on the picture below.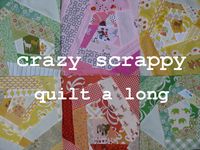 Another quality site to gain knowledge and proper quilting techniques for a scrappy process, is available with the following you-tube from
Missouri Star Quilt Company
- a great tutorial.
If you prefer a more traditional approach to this crazy/scrappy look,
Pepper Cory
from
www.Craftsy.com
has a class that leads you through this process. I'm considering this informative course and will let you know how it goes.
In the meantime, if you haven't tried this easy, SO FUN way to make anything from mug-rugs
http://letseatgrandpa.com/2013/01/12/seeing-red-a-mug-rug-for-becky/
to potholders to wall hangings to full-size bed quilts - get started right now! It can be an addictive way to satisfy your creative streak while producing items to fill your space with the
you
t
hat is figitting to be acknowledged. Besides, quilting with this scrappy, crazy quil

t-as-you-go

process
is no less than
fun and relaxing.
Potholders of course - are the easiest and IMHO the quickest way to practice, practice till you feel secure enough to go on to larger projects. Does that create TOO many potholders? I say...
there's always room for one more.
Don't forget to comment below and take a chance to have your name drawn to win the 2 kitty potholders. Drawing - February 1, 2013. Or e-mail me at
daniellesimone0@gmail.com.